If you require solar devices and equipment then Switches International has the solution. With Eskom's current energy crisis, South Africans are looking for alternative energy sources. The popular choice for many home and business owners is solar power. This renewable source of energy is undoubtedly the way of the future. If you are considering this option then Switches International will provide you with the apparatus you need to get connected.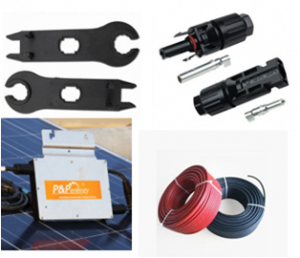 Switches International offers an extensive range of solar supplies. From solar connectors to cable, tools and inverters, Switches has all of your solar requirements sorted! Our solar connector sets are specifically manufactured to connect to PV panels and are UV protected for enhanced durability. We also supply a solar connector spanner-set which enables you to adjust and disconnect the connectors. Our solar cable is available in black or red; it is UV and weather resistant and double insulated in order to minimise unnecessary maintenance. Switches also have a selection of grid tie inverters to suit your specific requirements. Switches is your one-stop solar equipment supplier!
Renowned for their expertise, experience and excellence in the industry, Switches International offers a complete sensor solution. With over 25 years in the business, Switches offers their technical expertise, quality products and exceptional customer service. We endeavour to provide this at the most affordable price.
Whether you are considering installing a solar powered system or looking for additional solar accessories, Switches International will gladly assist with your requirements. Contact Switches International today for quality products and exceptional service that you can rely on.