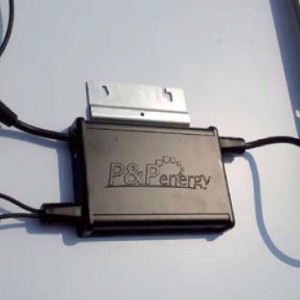 P250 (Micro-Inverter)
Micro-Inverter (Solar agrave;230VAC). Max individual power from PV-panel.
How it works:
The P&P Micro?inverter maximizes energy production from your photovoltaic (PV) array. Each Micro?inverter is individually connected to one PV module in your array. This unique configuration means that an INDIVIDUAL Maximum Peak Power Point Tracker (MPPT) controls each PV module. This ensures that the maximum power available from each PV module is supplied to the power-grid regardless of the performance of the other PV modules in the array. In other words, although individual PV modules in the array may be affected by shading, dirt, orientation, or PV module mismatch, the P&P Micro?inverter ensures top performance for that individual PV module. The result is maximum energy production from your PV system.
System Monitoring:
An "Envoy Communications Gateway" can be installed indoors, by plugging it into any convenient wall socket and providing an Ethernet connection to your broadband router or modem. After installation of the Envoy, the Micro-inverters automatically begin reporting to the P&P ENERGY PM-smart monitoring system server. The PM-smart software presents current and historical system performance trends, and it informs you of PV system status.
Optimal Reliability:
Micro-inverter systems are inherently MORE RELIABLE than traditional inverters. The distributed nature of a micro-inverter system ensures that there is NO single point of failure in the PV system. P&P Micro-inverters are designed to operate at full power at ambient temperatures as high as 65° C. The micro-inverter housing is designed for outdoor installation, with IP68 (water and dust) environment protection.
Easy Installation (Safety):
Each Micro-inverter easily mounts on the PV racking, directly underneath each PV panel. Low voltage DC wires connect from the PV module directly to the co-located Micro-inverter (MC4-connector), thus eliminating the risk of exposure to lethal 600Vdc power.
Download Data Sheet