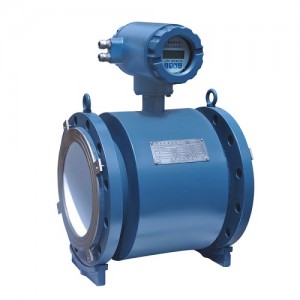 MAGYN (Electro-MAG)
Electro-Magnetic flow-meter. Water pipes: DN15..DN2400 (0.3m³..162,800m³/hr).
The MAGYN-series Intelligent Electro-magnetic Flow-meter measure the flow-rate of WATER by using induced electromotive force.
Required Application info: TYPE of Liquid, Pressure, Fluid Temperature (min + max), Flow-RANGE (min+normal+max m³/hr), and accuracy required
Features:
Independent of variances in temperature, pressure, viscosity, and density of the measured conductive liquid.
Easy maintenance: NO moving parts to wear out.
Turndown ratio: 1:100
Ingress protection: IP68 (DN15..DN1200)
Technology: Backlit-LCD display, Menu control settings, Three-level password protection, optional two-way measurement, Self-detect + self-diagnosis
Multi-Output: Pulsed-output (STD), RS485, Analogue (4..20mA)
Linings: Various linings available, in order to cover just about all conductive liquids.
Technical:
Accuracy: 0,3%,  0,5%, and 1%
Ambient-temperature: <70°C (excl. Transmitter)
Nominal-pressure: 6..320 Bar (0.6MPa..32MPa)
Power-supply: 24VDC   or   100-240VAC