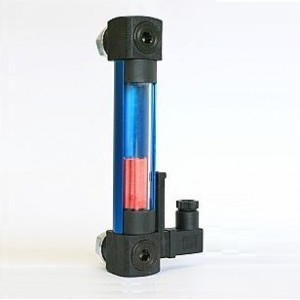 Sight-level switch
Sight-level indicator. (Switch/Temp optional)
The sight-level switch allows the sight reading of the fluid level through a transparent tube connected to the tank. O-Rings are located in all joining points to allow a perfect sealing even when the unit is mounted on an imperfect flat surface. The tube protection can be orientated on an 180° angle and the mobile heads permit it to recuperate drilling mistakes on fixation hole centres up to +4mm. They can be used with mineral oils and other non-aggressive fluids.
This device has the following technical features:
Fixing heads: in nylon filled with fibreglass.
Protection: in anodised aluminium.
Transparent tube: in Perbex methacrylate.
Fixing screws: in zinc-plated carbon steel.
Installation: in vertical position with two M12 threaded holes or two Ø 13 mm passing holes.
Standard axle base: 127mm or 254 mm.
Working temperature: from -20 °C to + 80°C.
Maximum working pressure: 2 Bar.
Mechanical life: 106 cycles at 20°C.