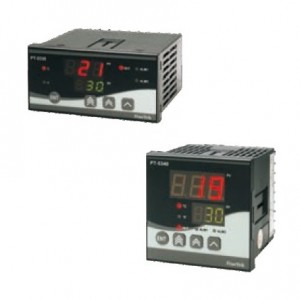 PT-53/PT-76 TEMP.CONTROL
Temperature Controller – PT100/J/K. Out: Relay, RE-transmit, Alarm. 3-Dig.
FINETEK offers a range of temperature controllers that cover a wide range of inputs, functions, and communication facility. The two model ranges include PT-53 (mid-range), as well as the PT-76 (High-End) models.
FINETEK offers the following product features:
The PT-53 series features a 12bit A/D-converter, as well as 2-row, 3-digit LED-display. Their operation includes PID-control, which enables fast/stable process control, minimising overshoot and transition-period.
The high-end PT-76 series, features a 14bit A/D-converter, FUZZY-control, and improved PID-calculation. The display consists of 2-row, 4-dogit LED-indication. Multiple T/C, PT100, and V/mA inputs.
FINETEK offers the following popular models:
PT-5320-S111
PT-5320-S211
PT-5350-S111
PT-5350-S211