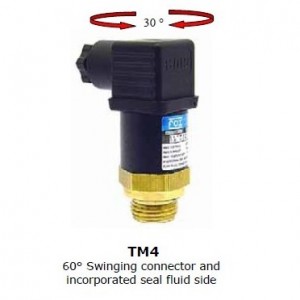 TM 4 (Thermostat)
Thermostat – rotation. Range: 40~120 deg° C.
The "TM4" and "TM6" temperature switches permit opening or closing an electrical circuit in order to reach a fixed temperature value. The "TM4" series is built with a connector that allows a 60° rotation.
This product has the following technical features:
Body in Brass:
– TM4: hexagonal CH27.
– TM6: hexagonal CH30.
Assembly: In every position.
Maximum dimension (L =width max, H =height max):
– TM4 execution: L 48mm x H 76mm.
– TM6 execution: L 48mm x H 72mm.
Hydraulic connection :
– ½" BSP Male.
– ⅜" BSP Male.
– M22x1,5 male.
Working temperature: From –20° C to + 120°C
Switching frequency: 20 cycles/min.
Switching accuracy: ± 3.5° C.
Fixed hysteresis value: ~ 12° C of the settled value.
Weight: 0.07 Kg for TM4 0.17 Kg for TM6.
This product has the following electrical features:
Electric connection according to DIN 43650.
Electric protection according to DIN 40050: IP65.
Maximum load on the electric contacts:
– alternate current to 220 Volt – 10 Ampère.
– direct current to 125 Volt – 15 Ampère.