An isolation switch is a manually operated mechanical switch which electrically isolates a circuit from the main power; it helps to ensure that there is an efficient distribution of power. This switch can be used to add more power to your vehicle as it separates your primary battery system from your auxiliary battery; the isolator enables you to use accessories such as winches without affecting the power in the primary battery.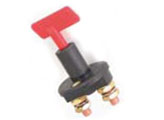 The following are the main benefits of using an isolation switch:
It enables you to charge a second battery from the electrical charging system of your car.

You can also charge different batteries simultaneously.

You can isolate your secondary battery from the electronic devices in your car:

This means that the power in your backup battery will be reserved and will not be affected when you start your car.

It enables you to use other devices in your car:

If you have an isolation switch, you can use other devices and accessories without having to disconnect from the primary power system in your car.
When you stop your engine, you can still use the secondary battery and leave the primary one fully charged.
If you are looking for a tool that will preserve the power of your car battery and prolong the battery life, then an isolation switch is the device to have. Switches International offers world-class switches and sensors solutions. Contact us for further information on our range of battery switches and isolators.